The Middle East is home to some of the most incredible sustainability projects and ludicrous designs that could determine how life looks in a more advanced, eco-friendly world.
In 2022, the smart city plan known as NEOM made its debut in the public eye and launched a major partnership with McLaren Automotive to leverage its technological expertise and environmental commitment. The project is set to come to fruition in the Tabuk Province in northwestern Saudi Arabia and marks a new era of living in the desert environment.
Now, a new middle eastern project comes to our attention, which looks to enable smarter, more sustainable mobility in Dubai.
Known as THE LOOP, the concept is a running and cycling track that will be powered by 100% renewable energy to act as a suitable route for sustainable travel along a 93 km stretch.
The project was designed by URB, which is responsible for further instance yet exciting designs for projects to implement in Dubai, Kuwait, Riyadh, South Africa, and Cairo.
100% renewable energy encouraging a healthier population
The aim of THE LOOP is effectively to bring back pedal power and encourage more people to use their feet in order to limit the number of vehicles roaming the roads in the city. This goes hand-in-hand with Dubai's position in urban mobility innovation.
"Dubai is the best place for entrepreneurship in urban mobility. THE LOOP project is an embodiment of that entrepreneurial spirit, which aims to make Dubai the most connected city on earth by foot or bike," says URB.
"In Europe, most people ride bicycles or walk to get to work. In Dubai, our aim is to get more than 80% of people to use a bike on a daily basis."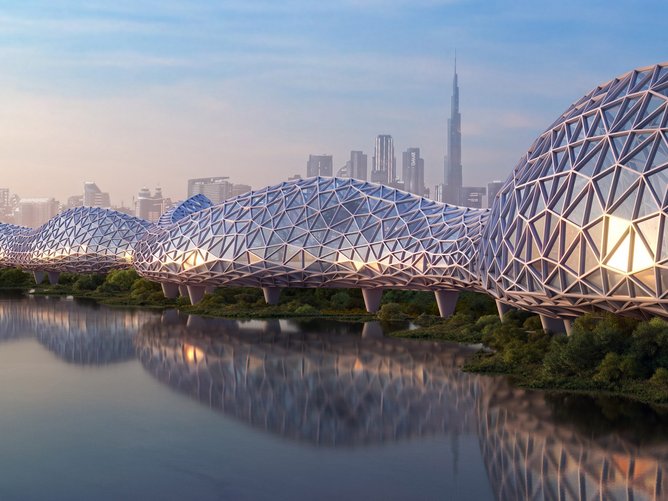 Exterior conceptual image of THE LOOP, Dubai
From the conceptual images of THE LOOP it becomes clear that the structure is more than just your average underpass or a bridge to and from travellers' destinations. The design is intricate and presents ample spaces for parking shared e-scooters and bikes, as well as enabling walkers and runners to use the structure filled with greenery and other facilities—making THE LOOP an experience as well as a means of transportation.
The health benefits of walking and cycling are also factors in the success of the construction. It also looks like the facility will be home to vertical growing infrastructure to boost the sustainable credentials of THE LOOP and potentially serve as a place to research plant growing in an urban environment.
From a mobility perspective, URB's design acts as a cog in Dubai's wider plans to become a '20-minute city' through enhanced mobility, and do it sustainably by using 100% renewable energy.