Tesla says that global energy requirements will drop by 50 per cent with the transition to more efficient renewable energy, batteries and electric vehicles .
"Most people assume that an electrified civilisation requires the same or more energy than a fossil fuel economy. That is not true," Tesla says in its newly released 2022 Impact report.
"A sustainable energy economy is clean and far more efficient – requiring only half the primary energy of a fossil fuel economy."
The 224-page Impact report covers Tesla's so-called Master Plan 3 – it's path to low cost electric vehicles – plus its environmental and product impacts, people and culture, supply chain, and governance. It contains a host of data and statistics on what the world needs to do to achieve decarbonisation as well as Tesla's emissions profile.
Global transition
The Impact Statement says that while the world currently uses 165 PWh per year in energy consumption, the transition to 100% clean technology will bring the total energy needed down to 84 PWh per year because of the massive energy waste associated with generating energy using fossil fuels.
According to Tesla, a world powered by renewable energy only needs 51% of current energy generated by coal, oil and gas.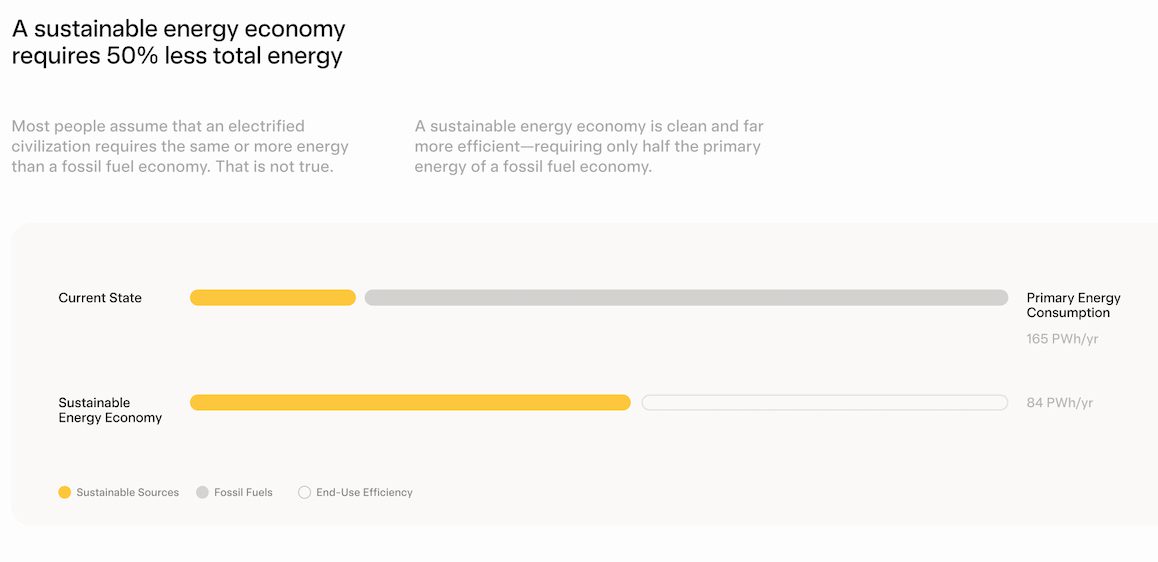 The report also gives number on what the world will need in terms of generation, storage and investment to get t0 100% clean technology.
According to Tesla, some 30 TWh of renewables and 240 TWh of storage are needed to power the planet. Tesla says that just 0.2% of the earth's surface is needed to supply all of the world's renewables and storage.
Tesla says this can be done with $US10 trillion which was just 10% of global GDP in for 2022 alone. Over 10 years the investment needed to transition the world is just 1% of global GDP per year.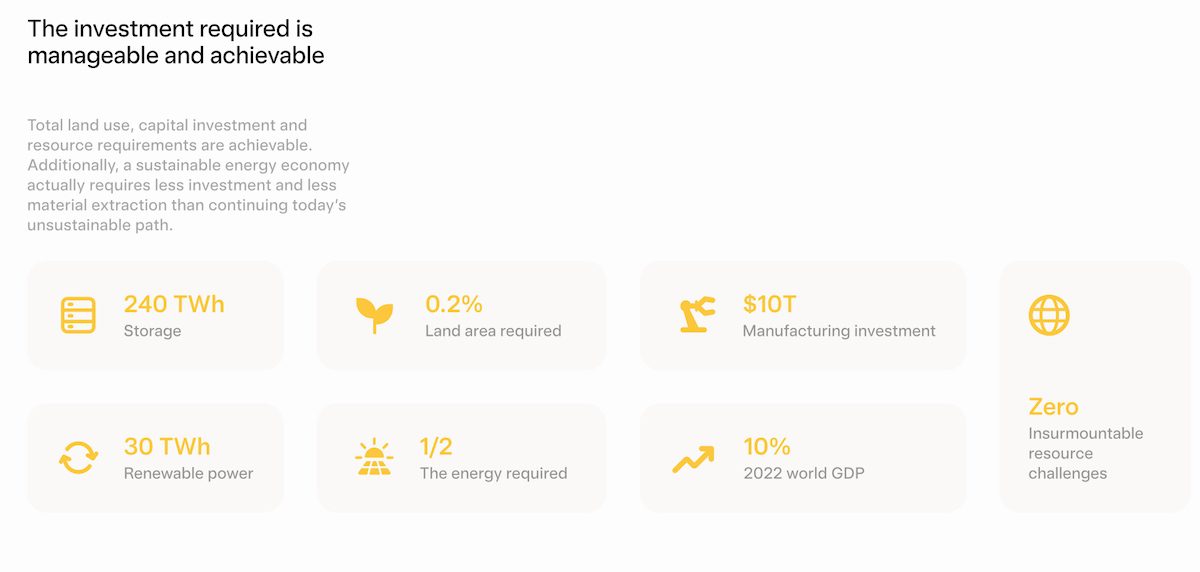 Tesla gives a five-step plan for what needs to be done including scaling up renewables and batteries, switching to EVs and heat pumps, as well as a small amount of hydrogen needed for high temperature manufacturing applications.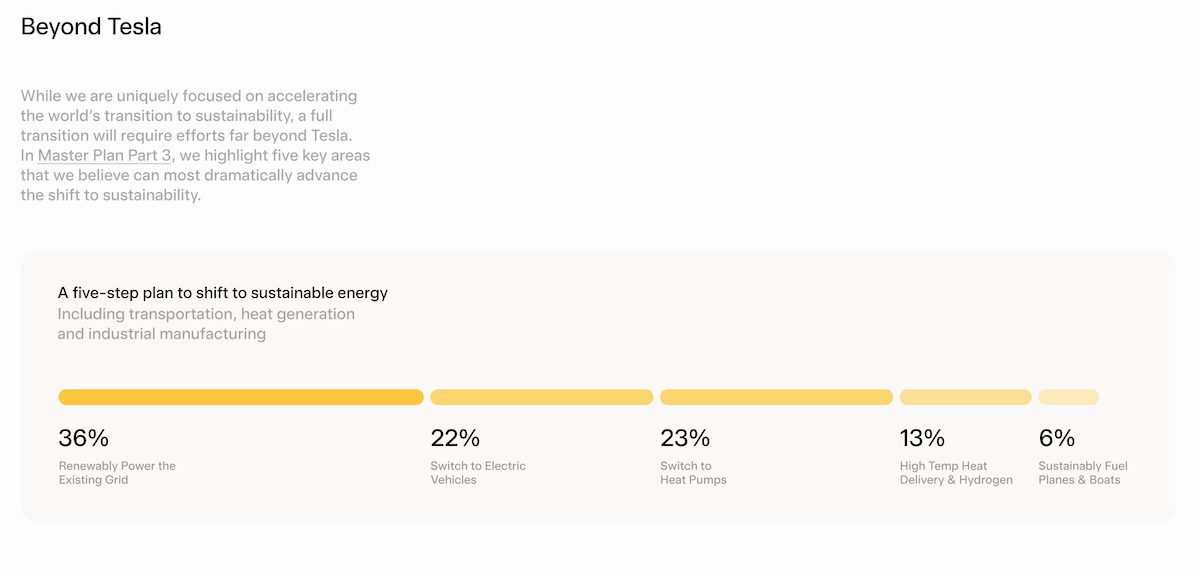 The Impact Report points out that the goal of transitioning the world to clean technology is within reach.
The report says that the world needs to increase annual production of solar and wind by a factor of three. Battery production, including EV and stationary batteries, needs to increase to 29 times the current annual output and electric vehicle production needs an 11 fold increase.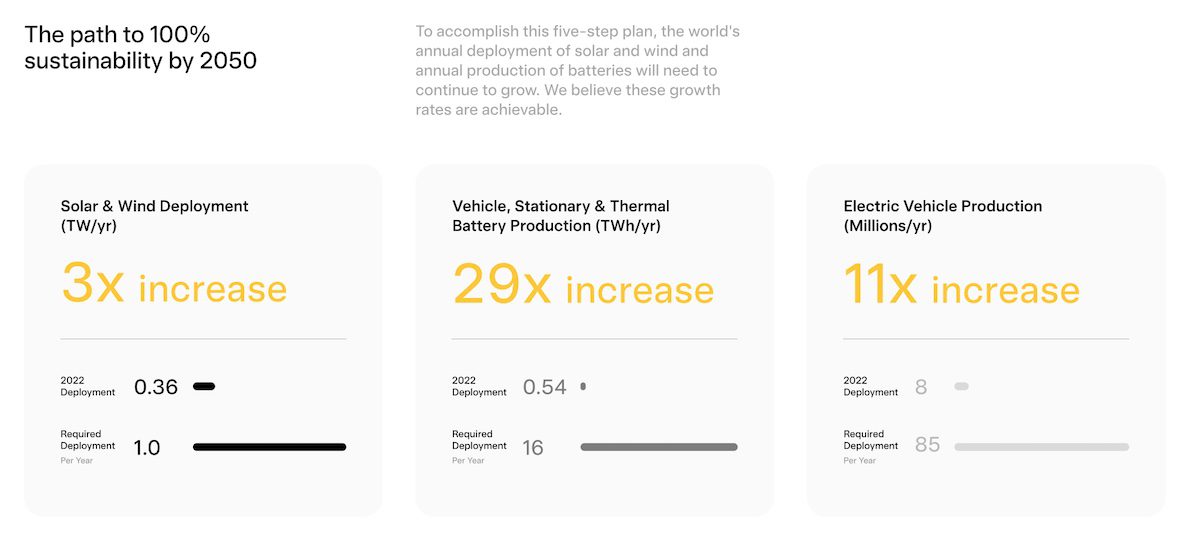 Tesla says that 30.4 terawatts of solar and wind are needed with around a third of that needed to power clean grids. According to Tesla the world needs 240 terawatt hours of battery storage with around half of battery capacity going into electric vehicles as well as 22.9 TW needed for grid connected stationary storage.
On electric vehicle production Tesla produced 1.3 million EVs in 2022 outselling BYD who had sold just under a million. Tesla produced more than 10 times more electric vehicles than the legacy automotive giants Ford, GM and Toyota.